AMERICANISM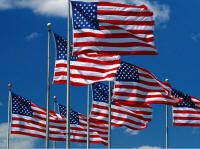 Give A Kid a Flag To Wave-
Our Club supports this National Program by handing out flags at the West Fest Parade each September.

One Nation Under God-
November, observed nationally as One Nation Under God Month, is a special time of year when Exchangites join together to increase public appreciation of the important roles religious faith and freedom have played in our nation's history.

Freedom Shrines-
The Freedom Shrine is an impressive, permanently mounted collection of 30 of the most important and historic American documents, including the Declaration of Independence, the Constitution of the United States and the Gettysburg Address. Several have been placed by the Club in local schools.

COMMUNITY SERVICE

Book of Golden Deeds-
The Book of Golden Deeds is a prestigious award given to a person in our community who generously volunteers and donates of their time and talents to make our community a better place to live. Click here for a list of previous recipients.

Senior Appreciation Event-
The Club recognizes the contributions that our Senior Citizens have made to our community now and in the past.
Community Recognition Awards-
Each year, the West Fargo Exchange Club is pleased to recognize the contribution of individuals who make our community a great place to live. Volunteer Firefighter of the Year, Police Employee of the Year and Civic Excellence Awards are presented. Click here for a list of previous recipients.
Commodities for Seniors-
The West Fargo Exchange Club helps the West Fargo High Rise deliver commodities and food items to their residents.

Meals On Wheels-
We deliver Meals On Wheels to Senior Citizens on the first and third Wednesdays of each month as one of our community service projects.
Night to Unite-
On the 1st Tuesday of August, we participate in the Night To Unite program by providing assistance to the Police Department and Park District at this community event.
Salvation Army Kettle Drive-
Each Christmas Club members ring the bell for donations to the Salvation Army's Kettle Drive.

YOUTH

Student of the Month-

Each month during the school year a West Fargo and Sheyenne High School student is recognized as Student of the Month. The student receives a plaque and recognition at our weekly meeting and is eligible to apply for the Student of the Year award.

Student of the Year-
Each Student of the Month is eligible to apply for the Student of the Year designation which includes a $1000 scholarship from the Club.
Mentoring Program-
Working with educators, West Fargo Exchangites provide mentoring assistance to high school students.
School Snacks for Children-
Each year, we purchase a supply of healthy snacks and deliver them to the elementary schools in West Fargo to allow the school staff to provide snacks to students who do not have them.
Food and Clothing Drives-
Exchangites support various food and clothing drives for youth including the local BackPack program.